Welcome to The Park on Main, A Dog-Friendly Hotel in Highlands, NC
The Park on Main is a 24-suite luxury dog-friendly hotel in Highlands, NC with an upscale-rustic theme, providing an elegant place to stay in the southern Appalachian Mountains. Located right on Main Street, our relaxing suites include both picturesque views of the hotel's garden terrace, inspired by Central Park in New York City, and balconies overlooking the quaint streets. Our pet-friendly hotel in Highlands, NC is the perfect resting place when traveling in Highlands with your furry friend.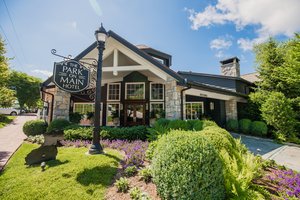 We are Open!
The Park on Main Hotel is pleased to announce that we are open for guests and their pets. The safety and well-being of guests and employees is our top priority. We want to assure our guests and visitors to Highlands that we have put new measures in place to provide a welcoming and clean environment – specific details can be found under the section labeled COVID-19.
We are monitoring the situation closely and will keep everyone updated on our website and social channels if anything should change. If you would like to make a reservation or have a general question, you can reach us at 800-221-5078. We cannot wait to see you again.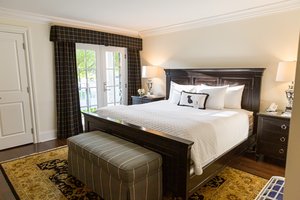 The Park on Main joins Select Registry!
Select Registry Collection of Boutique Properties Welcomes The Park on Main Hotel
The Park on Main, a 24-suite luxury boutique hotel in Highlands, North Carolina that is pet-friendly, has joined the Prestigious Independent Lodging Collection – Select Registry
Select Registry (www.SelectRegistry.com), a diverse collection of independent, boutique properties, is pleased to welcome The Park on Main of Highlands, North Carolina as one of its newest members.
"We are delighted to welcome The Park on Main," said Select Registry CEO Mark Jaronski. "The property's 24 luxury suites with an upscale-rustic theme provide an elegant place for our members to stay in beautiful Highlands, North Carolina."
For nearly 50 years, Select Registry has set the standard for excellence in personal hospitality at privately owned inns and bed and breakfasts. Today, our upscale properties include lodges, luxury cabins and boutique hotels. They're located everywhere from back country roads to big city neighborhoods, along coastlines and in heartlands across the United States. Learn more at www.SelectRegistry.com.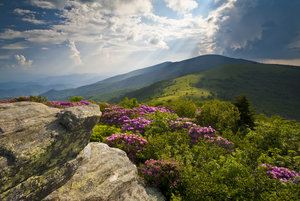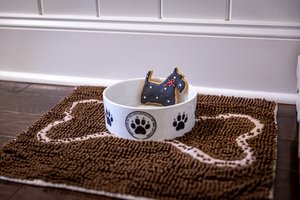 Amenities For All
Look no further than The Park on Main Hotel for a pet-friendly place to stay in Highlands, NC! Our mascot Mr. Pickles, a spunky black Scottish terrier, helps to welcome all of our guests. We pride ourselves in making sure every aspect of our guests' stay is memorable with things like a MacKenzie-Childs dog bowl and an Orvis dog bed in the rooms. Each of our 24 lodgings has delightful amenities such as:
Balcony and Garden Terrace access
Heated marble Italian floors
Complimentary WiFi
Custom all-natural soaps
Keurig coffee maker
Heated parking garage
Separate living room area
Two Tesla High Power Wall Connectors (80A)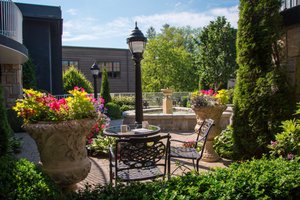 Envision Your Stay
Wake up each morning at our Highlands, NC hotel to a quiet cup of coffee on your balcony before coming downstairs for our complimentary continental breakfast.
Imagine your morning stroll through our private garden with your dog. Guests often linger by the fireplace to read, perfectly situated within the Park on Main's Southern hospitality.
We only offer 24 of our perfectly appointed suites, since our focus is on providing attentive service to each of our wonderful guests. We are dedicated to providing the utmost privacy and cleanliness, for guests and their pets alike at our charming dog-friendly hotel in Highlands, North Carolina.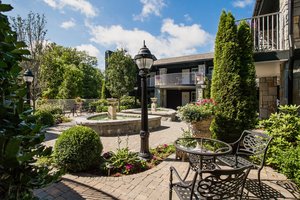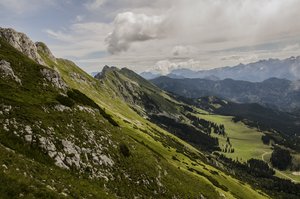 Explore the Highlands
Stroll down Main St for delightful shops and delicious restaurants. Highlands, North Carolina, holds onto a rustic memory of an old Northeastern town with delicate touches of Southern hospitality. Shop for fine antiques, furnishings, and gifts for loved ones. Enjoy a scenic drive along Blue Ridge Parkway in the Appalachian Mountains and choose from different trails every few miles.
Here in the mountains, we are spoiled with the abundance of waterfalls and Dry Falls is a favorite of our guests. Discover picturesque hikes throughout the seasons, from crisp autumn leaves to tranquil snowfalls, flowering springs and glowing summers.